Our Story
In the early 1980s, a determined father and son who shared a true passion for real estate development started a construction company in Greensboro, NC. With the commitment to build quality homes for a great value, the company quickly took off, eventually diversifying into the strong organization it is today. With over three decades of real estate development, The Carroll Companies now have over $2.2 billion in real estate assets that they own or currently have under development without outside equity or partners.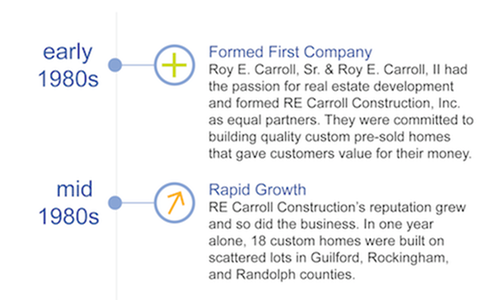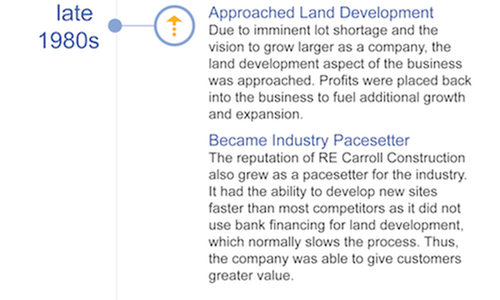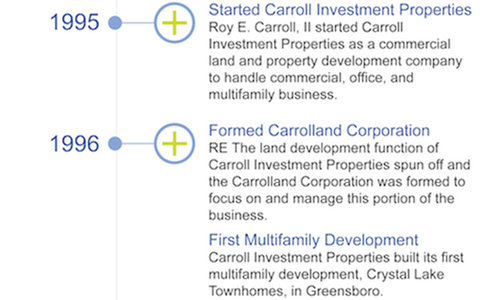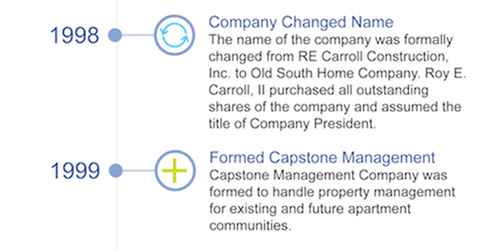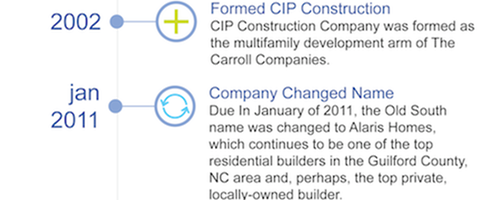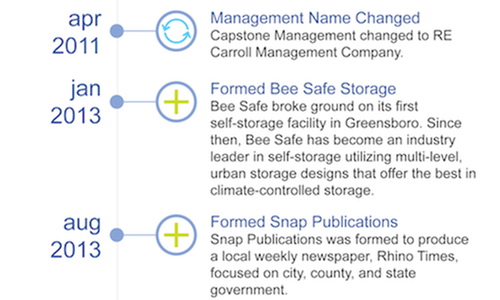 Our Vision
To be the revolutionary force that guides the future of our industries through the convergence of our people, our ideas and a relentless pursuit of excellence.

To shape & lead each industry segment in which we operate.

To create value for our customers & a dynamic work environment for our team members.

To achieve this focus on value, we will diligently work toward ensuring the highest level of efficiency throughout the organization in all we do.
We
will be a modern, relevant group of companies embracing these ideals to create growth & opportunity for all within the organization.
Our Principles






​Customer Satisfaction


Understand what our customers want & need to meet or exceed these expectations. Manage, improve, & streamline how we work in order to continuously deliver value to our customers.



Continuous Improvement


Achieve continuous improvement in cost, quality & cycle time. Implement better ways of doing business by taking appropriate risks, learning from out mistakes, & setting high expectations.



Results Focus


Establish & meet all commitments to customers, suppliers, sub-contractors, employees, etc., by building relationships with these key stakeholders that are based on shared goals & objectives.
Our Philosophy






These are the guiding principles of our decisions that ensure we stay true to our mission:





Customer Focus


We are driven by customer expectations & committed to quality, excellence & speed.



Profitability


We provide cost-effective, value-added solutions that are fast, focused & flexible. We directly & continuously contribute to the financial success of The Carroll Companies.



Effective Negotiations


We think strategically & act decisively. Our destiny as a Company is directly related to our ability to effectively negotiate.



Creativity & Accountability


We expect innovation, empowerment & personal accountability.



Trust & Respect


We demand integrity, honesty & the highest level of ethical business behavior. We respect each other, our customers, & our suppliers.



Teamwork & Open Communications


We embrace teamwork, cooperation, open communications, enthusiasm & diversity.



Recognition & Reward


We recognize & reward those who commit to & support these Values & Principles
Our Strategy
Build-and-Hold


One unique aspect of The Carroll Companies is its "build-and-hold" strategy in which it retains long-term ownership in the projects that it develops. This approach allows the Company to develop high-quality, Class-A real estate projects that become a great addition to the community. An example of a typical project is Carroll at Bellemeade, a $60 million mixed-use apartment and hotel project located in downtown Greensboro.
Cash Buyer
Another unique characteristic is that The Carroll Companies is a "cash" buyer. Given the Company's impressive track record and substantial balance sheet, the Company does not use loans or financing contingencies in its land purchases.